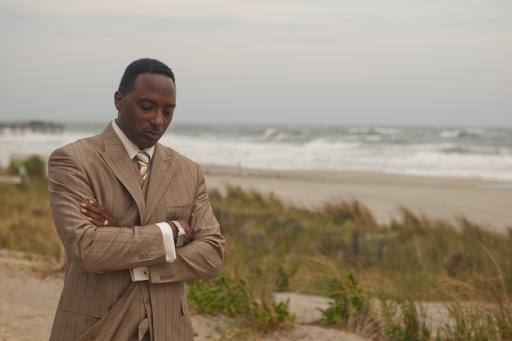 About Kenneth Hitchens
A man, a father, a Gospel singer/songwriter, a musician. The characteristics of Kenneth Hitchens are many, but the one that has formed who He is today is enduring. As he has spent the past decade preparing purpose. Kenneth will state with conviction that he truly serves a God filled with forgiveness, grace and compassion. These words echo in the workmanship of the music that he creates.

Music has been a point on his life's axis since Kenneth's early years. Kenneth grew up in Laurel, Delaware, surrounded by both the artistry and wonder of worship music. Having both formal and experience-filled instruction, Kenneth embraced different genres of music. One such style led him to sing in the Delaware State College Gospel Choir. During this period of time, Kenneth was led on a path that brought enlightenment to the questions that he had offered up about his life. He always knew that there was more to music than music, but just couldn't pinpoint the essence of it until now. It wasn't just a bunch of notes, connected to lyrics. There was energy, an entity that powered and connected it. It was during this time of exploration and explanation that Kenneth gave his life to Jesus Christ. Not just following in the footprints of his parents, but truly finding a relationship that was special and his alone with his Lord. His commitment was true and he offered his gifts to True Spirit Ministries in Pleasantville, NJ.

Growing up, Kenneth is one of six children; four brothers and one sister. Life was not easy. A non-unified household led Kenneth to continually seek security and stability throughout his life. With roots buried deep, Kenneth took them well into his adulthood. All the while knowing that there were pieces missing from his heart. Many of these pieces were covered up and some had been left behind. As the recognition of all of this began to surface by seeking a path through God's word and sharing his music, Kenneth began to truly understand the meaning behind a "heart of worship".

Kenneth currently lives in Egg Harbor Township, NJ with his wife and children. With an EP in the making, Kenneth plans on converging his life-experience and the gift that he has been given and bringing it all together through the media of music. He calls himself a 'remnant' for a time such as this. His song RESTORE, title track on his album, is simply profound. The thesaurus brings forth a myriad of words describing the essence and description of RESTORE; bring back, build up, cure, heal, improve, make healthy, make restitution, mend. These are the foundational pieces that make up the ministry of Kenneth Hitchens. As he weaves stories throughout the music that he sings, you will see and feel that he has been there and understands. "The words to the song were really moving and I could definitely tell they were divinely inspired by God through you." states K. Dabney, Pastor, Egg Harbor Twp, NJ.

"There are many who need to know for a fact that there is a Lord who offers deliverance and healing", exclaims Kenneth. That is his ardor and his calling. To look deep into the eyes of those who 'hurt' and offer them the tranquility, serenity and the peace that passes all understanding.

Kenneth HItchens is a man on a rescue mission. One that utilizes music and a lyrical message to reiterate the truth that lies within him, along with the truth of what he has learned on his life journey thus far. Kenneth's single, RESTORE, will be released in early spring, with the completion of the entire EP to hit the airwaves by early fall. It is his hope that restoration receives a 'voice' through this rendering.





Followers:

stats: