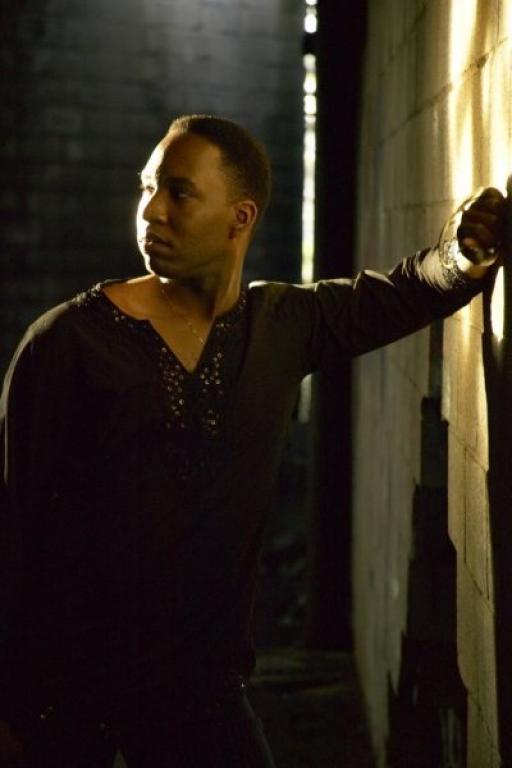 About jesuguru
Artist: Douglas L. Hill 
(artistically known as) 
"Jesuguru" 

The world is calling.... 
From The U.K. 
From Canada 
From France 
From Japan 
From USA 
* 
This hot new talent is creating a rapidly growing under-current on the Christian music scene. 
His 2nd CD: "Jesuguru" - was released in 2004. 
* 
For those who've seen him live or in a praise and worship setting - he is genuine, exciting, and anointed. 
* 
His self-titled CD project: 'Jesuguru 06' 
- is largerly sought on the internet, both in the U.S.A. & abroad. He has recieved a notable "Up&Coming Artist" 
mention in the November 2004 Edition of "Ebony" Mag (Cover: Jamie Foxx) and as well on BlackGospelpromo.com. 
One of Douglas' strengths is lyrical content, and as you listen closely - will hear a life lesson or two - well placed and well sung. 
* 
* 
~ Truly.... Music with meaning and a message ~ 
* 
* 
Douglas L. Hills' style is... easy yet jazzy - stretching from Contemporary Christian, to Hip-Hop/R&B influences and (again) jazz with thoughtful, catchy, and colorful lyrical content. Checkout his hit singles: 
"I'LL BLESS THEE" - also - 
"I FEEL IT NOW" - and - 
"KEPT AN EYE" 
* 
These singles are dynamically different, yet genuine & poignant; driving home a strong message of faith in God. 
The artist is quoted as saying, 
"I'm God-raised and don't know where I'd be without my Father to guide me! I always pray He just keeps His hand on me - as I hold fast to Him!" 
* 
Shortly after the cd's release, Douglas also contributed to and participated in the Sarasota, FL (2004 'Gospel Awards' fighting Cancer) - not even a year after losing his own mother to Cancer. Again, sharing his faith & trust in God! 
* 
* 
* 
Douglas, an (humble) Ohio native - Now living in Los Angeles, CA - is no stranger to Christian music. He grew up singing in church and in many community choirs and groups. He has sung with and opened up for many of todays Christian performers such as: 
'Yolanda Adams' 
'Anointed' (hosted 2 years consecutively) 
'The Williams Brothers' 
'Tremaine Hawkins' (choir performance) 
'Vanessa Bell Armstrong' (LA praise team performance) 
'Andre Crouch' in Sarasota, FL 
'Kierra "KiKi" Sheard in Sarasota, FL 
and other well-known recording artists 
* 
Douglas is also an excellent dancer/performer and can move with the best of them. His hunger for God exudes out of him - a fire burning on the inside... and will one day change the world thru his God-given creative expressions. 
* 
He is certainly a dynamic personality and an unstoppable talent! You have to see him, as well as hear him; a true hidden treasure!! 
* 
Using his own words, Douglas desires to 
"...take his gifts to the four comers of the earth so that every person can be touched with the 'good news' of ~Jesus Christ~ and great Kingdom music". 
* 
* 
Currently.... Douglas is a Praise & Worship Leader of 15+ years and is a member of Bishop Noel Jones' church in Gardena , CA - where he is an active member of the praise and worship team. He also, as of Jan. 4th, 2009 - participated in the churches sophomore live concert and video recording - where Tye Tribbett and Mary Mary were featured artists. 
* 
* 
ALSO notable to mention: In the movie "Duplexes" starring Drew Barrymore & Ben Stiller ~ Douglas sang in a re-created (background music) snipet of the hit Marvin Gaye song: "Sexual Healing" (in a hilariously comical hospital scene). 
* 
* 
Douglas also worked background on such films as: 
* 
* 
'Dreamgirls' (starring Beyonce, Jamie Foxx, Danny glover and others) 
'Spiderman 2' 
'A Cinderella Story' 
'NYPD Blue' (as a dead person) 
'ER' 
'You got served' 
and 'Malibu 's Most Wanted' 
* 
* 
This is just the beginning... so, be on the lookout for more music cd's, music videos, concert dates (in a city near you), and television performances in the months and years to come. You will MOST DEFINITELY be blessed!
stats: